Everyone gets excited for Santa and his reindeer  — especially huge corporate advertising departments.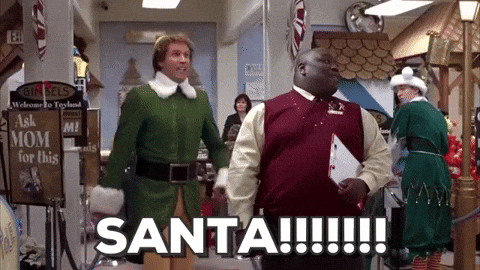 Competing with bigger advertisers for space can feel like a lost cause. Most clients don't have the advertising budgets to compete for space with Nike or Amazon.
Facing off against the giants of the advertising world during the holiday season can be overwhelming, intimidating, and discouraging. Don't worry — we're here to help break down the most important numbers to know if you want to go toe-to-toe with the biggest names in the business during the holidays.
#1 – 40%
In 2018, more than 40% of all online transactions during the holidays were made on mobile.
Making sure your advertising content is optimized for mobile is no longer a luxury — it's a necessity if you want to compete during the holidays. More transactions are made via smartphones than ever before and this number will have only grown since 2018. It's crucial that your ads draw in eyes on mobile and that your landing page is easily navigable from a phone screen.
#2 – 68%
During the holiday season, more than 68% of American shoppers visit YouTube on their smartphones to determine what to buy.
If you want to spread brand awareness or spur conversions, it might be wise to get your product on YouTube. Whether you're putting it in the hands of influencers or placing ads on YouTube, the classic video site can provide a boost in conversions during the holiday season.
#3 – 48%
You've heard the phrase — the early bird gets the worm. It's especially relevant to advertisers during the holiday season, as 48% of online shoppers do the majority of their shopping on or before Cyber Monday.
Getting your advertising content up early and often is key to succeeding during the holidays. If you go up too late, you'll have missed out on half your potential customers.
#4 – $7.2B
You've seen the videos of mobs fighting (literally) over the best deals on Black Friday. It's a day of commercialized chaos and viral videos. But the chaos isn't just happening in brick-and-mortar stores — it's also happening online.
The total online spending on Black Friday this year was a record $7.2 billion. You may have missed out on your opportunity this year, but this number is sure to grow in 2020 — make sure you are prepared for Black Friday 2020.
#5 – $135.35 billion
Seem like a huge number?
This isn't projected total spending during 2019 — it's only the projected online spending during the 2019 holiday season by American consumers. 
Americans are spending more of their lives online than ever before and their retail habits are following suit. Getting your creative in front of consumers on digital platforms is only going to be increasingly crucial as this number rises.
The Bottom Line
The world of advertising is crowded and complicated during the holidays. In order to succeed, you need to be prepared and your digital game needs to be on point.
Traditional media is still a powerhouse, but digital is rapidly gaining ground. In order to successfully navigate the digital advertising space and efficiently use your budget, you need an advertising strategist who can help you decide when and where to spend your dollars.
Interested? Check out our team.